You don't have to invest in luxury sugar scrub to get and keep your skin soft and smooth. With a few simple ingredients, you can make a body scrub that will leave your skin exfoliated and refreshed.
Why is sugar great for your skin?
Sugar is derived from sugar cane juice, a natural source of glycolic acid. The granular texture of sugar will help to remove dirt and toxins from the skin's outer layer, gently exfoliating dead cells. 
Sugar naturally exfoliates revealing fresher skin, helping the light weight moisturizing oil penetrate.
Leaves the  body soft & moisturized providing minerals, vitamins and proteins to the skin while it polishes.
Sugar scrub will also help improve blood flow to the skin's surface. 
Here are a few tips:
*Exfoliate one weekly for best results
*Choose a fine grained sugar instead of a coarse sugar for a gentle scrub.
*You aren't limited to the oils listed in these recipies. 
 Here are some other oils that are great for the skin:
  Oilve Oil
  Avocado Oil
  Grapeseed Oil
*You can add a few drops of essential oil if you'd like, but leave them out if      
  you're pregnant or nursing. 
*Store any extras in a glass jar. Don't let water get in the jar. it's better to to take out what you need, and keep rest of the jar in a cool dry place.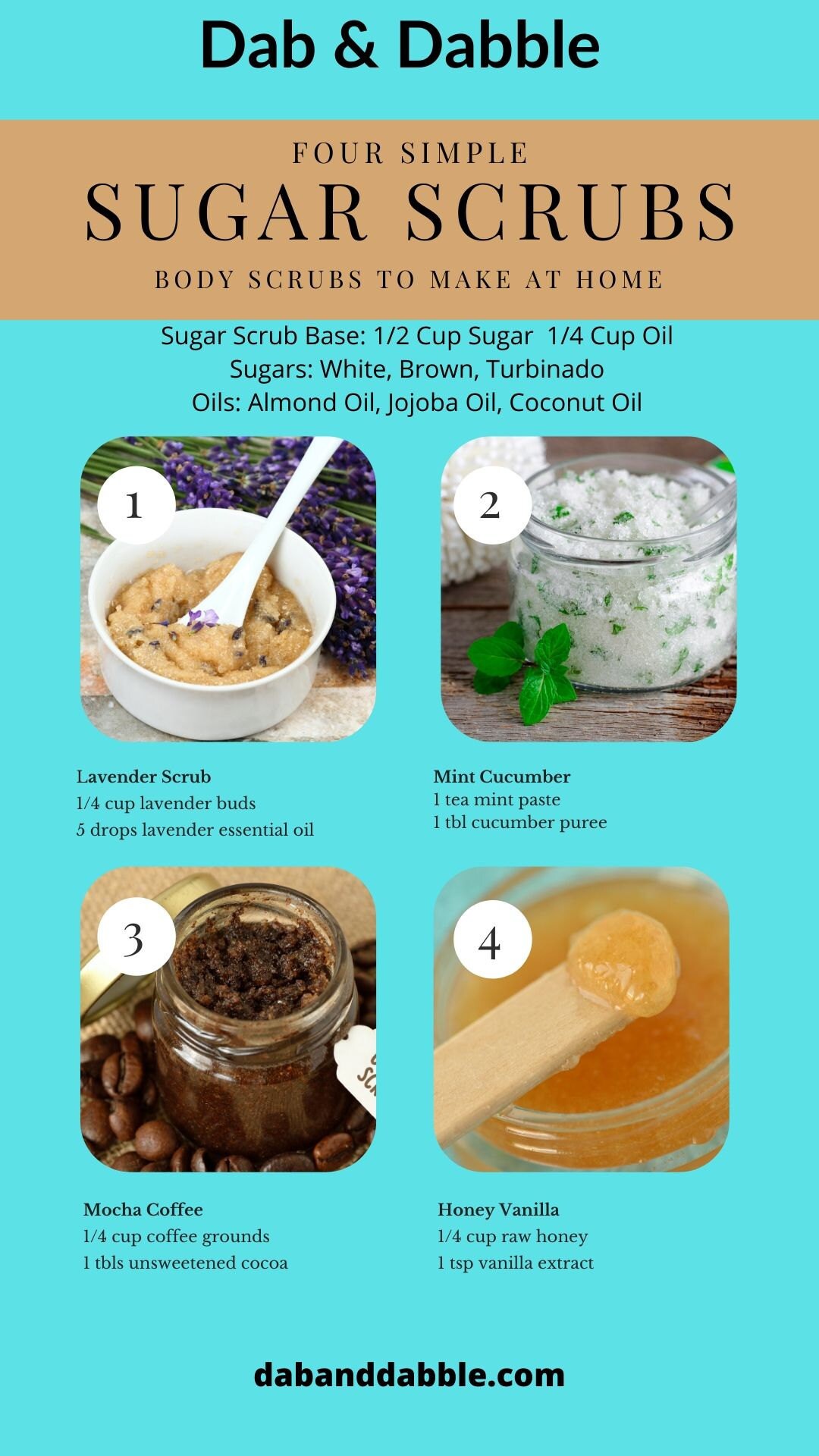 Beneficial Ingredients
Lavender
The aroma from Lavender is soothing, calming and relaxing. It is also believed to have healing and disinfecting qualities.
Honey
Honey is a natural anti oxidant and anti-inflammatory. It is high in vitamin C and promotes collagen formation in the skin. Promotes skin regeneration, repairs cellular damage and lessens scarring.  When applied to your skin, honey will hold in moisture and absorb moisture from the air for a dewy, glowing complexion.
Matcha
Green tea contains powerful antioxidants. It also has strong antibiotic properties, and acts as an anti-inflammatory, which is especially useful in treating problem skin.
Cacao
Cacao is rich in vitamins, minerals and antioxidants that nourish skin. Flavonoids in dark chocolate absorb UV light, help protect and increase blood flow to the skin and improve skin's hydration and complexion. 
Cucumber
helps unclog pores, fade dark circles, blemishes, and scarring. Rich in Vitamin B-5 which helps to retain moisture in the skin.